It's Easy to Get Started with CBD•TRU's Beginners' Bundle!
Introducing the Perfect Starter Package — at a Discount! Extracts can be confusing when you first start. One reason is that these miracle healing molecules are virtual do-it-alls in the body. Extracts can relieve bodywide aches and pain when taken orally in capsule form or in a special, fast-acting, under-the-tongue liquid called tinctures.
Extracts can also relieve joint and muscle pain and swelling when applied topically as a salve, directly on your sore knee, shoulder, elbow, wrist, ankle, etc. But that's not all! Extract-containing topical salves can also relieve the symptoms of migraine headaches, anxiety, general aches and pains, as well as helping relieve symptoms related to aging.
With that said, we have made getting started with Trew.Extract health solutions, easy and affordable by creating four special starter packages for newbies just like you. Now, you can reap the benefits of CBD•TRUs and save your hard-earned money, too!
We have discounted four starter packages, each features our flagship 500mg Trew Extract Oil and your choice for topical Creme salves: Migraine, Anxiety, Original (aches and pain) and Anti-Aging.
CBD•TRU Beginners Bundle Save 30%
2 MONTH SUPPLY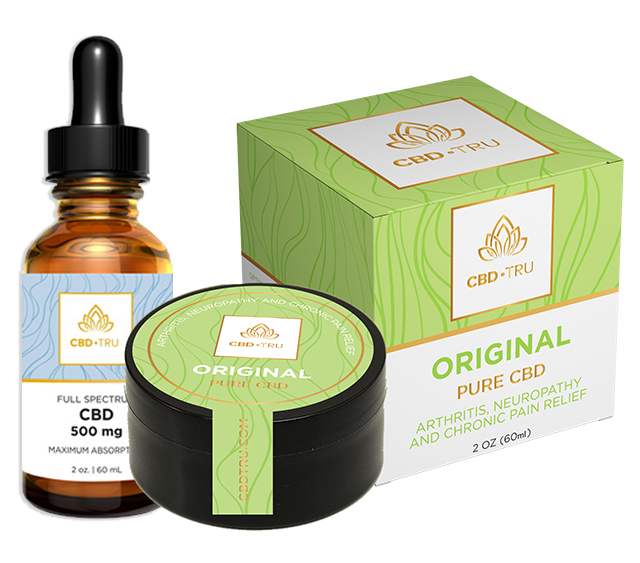 Best Value
CBD•TRU's Pure oil is the only Extract Oil formulated with a protein-based soluble. We use hemp oil as our base for maximum absorption. This formula is gluten-free, sugar-free, carbohydrate-free, all natural, organic, and safe for diabetics and celiac. Knowing that a healthy body requires a balance of natural ingredients, which are easily digestible, this pharmaceutical-quality CBD•TRU Oil is made without synthetic materials.
Your Beginners Bundle comes with your personal choice of one of our Award Winning Creme /Salves. Choose from our (1) Original Topical Creme Salve for general aches and pain or choose our (2) Topical Creme Salve for Anxiety or our (3) Topical Creme Salve for Anti-aging, or our (4) Topical Creme Salve for Migraines.
All CBD•TRU Starter Packages include:
Best Value Two Months Supply Our best sublingual CBD•TRU Oil (500 mg) Pure CBD•TRU made with hemp seed oil.
What you won't find in cheaper, poorly designed CBD•TRU formulas are CBD•TRU's unique, hand-picked terpenes. Terpenes are aromatic metabolites of the hemp plant that have powerful synergistic, health-boosting effects.
While terpenes in the hemp plant number as many as 200, or even more, CBD•TRU's 'magic four' terpenes have been isolated and identified via state-of-the-art clinical and pre-clinal research for their powerful, health-changing effects.
These specific terpenes interact with and support CBD•TRU's arsenal of full-spectrum CBD. 
Inside every CBD•TRU formula, you'll find and feel the benefits of:
Apionene –  a powerful terpene that provides greater mental focus and calmness.
Linalool – One of Nature's most potent terpenes that relieves the symptoms of PTSD and stress.
Myrcene – this abundant terpene complements CBD•TRU's unmatched cannabidiols by providing a strong, sedative effect.
Beta-Caryophyllene – a powerful anti-inflammatory substance used for quick, effective relief for pain and inflammation.