Cannabis-infused products are today popular all over the world, thanks to  their numerous medicinal properties. Statistics have shown that the CBD market will reach an estimated $20 billion by 2020 and this figure is expected to continue rising in the years to come. Best CBD products have risen in stature as more people turn to these products to alleviate symptoms arising from health issues like anxiety, allergies, depression, and muscle pain. 
One of the most common and relatively not so expensive forms of CBD is what is known as the CBD isolate. Although pure CBD isolate looks different from any other form of CBD product you might be used to, it is the purest form of CBD available.
What is CBD Isolate?
CBD isolate is a chemical component from cannabis that has been extracted and isolated from the other numerous chemical compounds found in the plant. As such, CBD isolate powder is actually the purest of all the other CBD forms available today. It is a crystalline powder that is THC-free. CBD isolate is 99% pure as all matter from the plant including waxes, oils, and chlorophyll from the cannabis plant have been removed.
The manufacturing process of CBD Isolate
Cannabidiol is simply extracted from cannabis or hemp plant, which is mostly used for commercial purposes. Once the initial extraction has taken place, CBD has to go through another complex process and purification to ensure that what is left is pure CBD isolate. Several compounds like terpenes and flavonoids remain in the extracted oil after the regular process to extract CBD, the final product is either a broad-spectrum or full-spectrum CBD oil. An additional process must take place to produce CBD crystalline as all the unwanted compounds and residual plant materials are removed. After this, the extracted oil goes through a second purification process which filters out any remaining plant material.
The extracted oil then taken through another process known as winterization. This usually entails soaking the cannabidiol oil that has been extracted in alcohol. Thereafter, it is frozen. Waxes and other unwanted components like chlorophyll and terpenes are removed in this process. This process is essential as it separates pure CBD oil from other compounds in the oil. A proprietary processing technique is then used to convert the extract into a crystalline powder form. What you are left with in the end is pure crystal CBD.
The manufacturer has the option of either converting the extract into a crystal isolate or producing CBD isolate as a pure powder. The main difference between the two is ingestion of the product by the end-user. For instance, CBD isolate powder is often mixed into edible gummies or it can be ingested under the tongue. On the contrary, CBD isolate as a crystal can be taken via a vaping pipe and also digested as an edible.

Benefits of CBD Isolates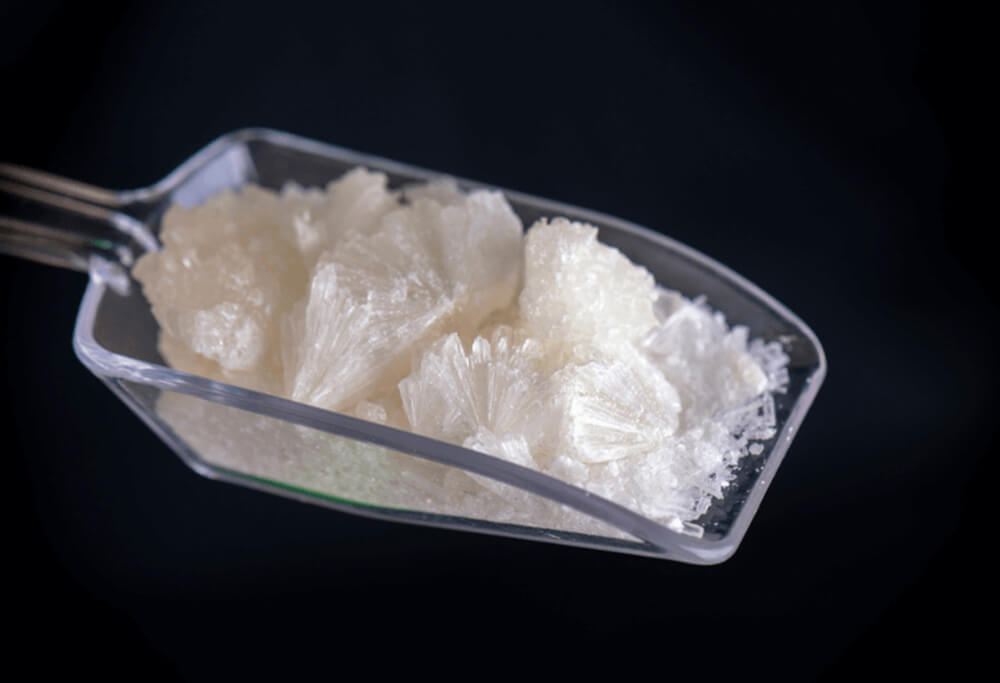 Now that you have an idea about CBD isolate, here are some of its benefits over other oils and methods.
1. THC-Free
High-quality CBD isolate has 0% THC (tetrahydrocannabinol). THC is the cannabinoid that is primarily characterized by its "high" effect. When it comes to isolates, displaying the THC content is a strong indicator of purity. Pure CBD crystalline should have 0% THC. For people who undertake drug testing regularly, pure CBD isolate is the perfect option due to close to nil THC content.
2. Easy to Figure Out Dosage Amounts
It is fairly easy to calculate the dosage levels with CBD isolate. Considering the fact that the isolate is extracted from other compounds, it is recommended that you measure dosages in milligrams. This can be as simple as using kitchen scale.It is, however, important to note that each person's dosage varies according to their unique needs. As such, you should always start with a low dose of CBD isolate and increase it gradually.
3. CBD Isolate is Cheaper
CBD isolate is an affordable product compared to other forms of CBD like tinctures, gummies, and oils. Typically, you can buy CBD isolate powder in various quantities, ranging from 1 gram. For example, the price of CBD isolate in the US ranges from $25-$40 per CBD gram (1000mg. Conversely, a tincture of oil of similar quantity of CBD can be upto 100% more expensive than the isolate.
4. CBD isolate powder can be used to make homemade products
Isolates can be used in various other ways such as mixing with food and drinks, make tinctures or drops by mixing with carrier oils like coconut and MTC, Vaped by adding to an e-juice or even topical application by mixing into a cream of your choice.
Other ways of using isolate crystalline
Now that you know what CBD crystalline is and how it is made, you can make an informed decision of what is right for your needs. Furthermore, CBD isolate can be used to make a broad range of other CBD-infused products, thanks to its versatility. Here are some of the ways to use CBD isolate and experience its benefit.

1. Add to your cup of tea or coffee. This is one of the best ways to use CBD crystalline. It is simple; add your desired amount and stir well to enjoy its benefits.

2. Put it into the mouth. The easiest way to consume CBD isolate by simply placing it in the mouth and letting it dissolve gradually, just the way you take CBD tinctures.

3. Make CBD pet treats. CBD does not only offer benefits to humans but your pets can be positively impacted by CBD. Using best CBD products for pets is becoming increasingly common and you can add it to any pet treat recipe.
Using CBD isolates has numerous benefits while at the same time will not cause the entourage effect that is associated with THC. Moreover, a little CBD isolate goes a long way and you can also save a lot if you are a regular CBD user. CBD crystalline is odorless, tasteless, and can be enjoyed in its original and pure form. When starting, it is recommended to consult a health professional to guide you on what you should use and what is right for your needs.